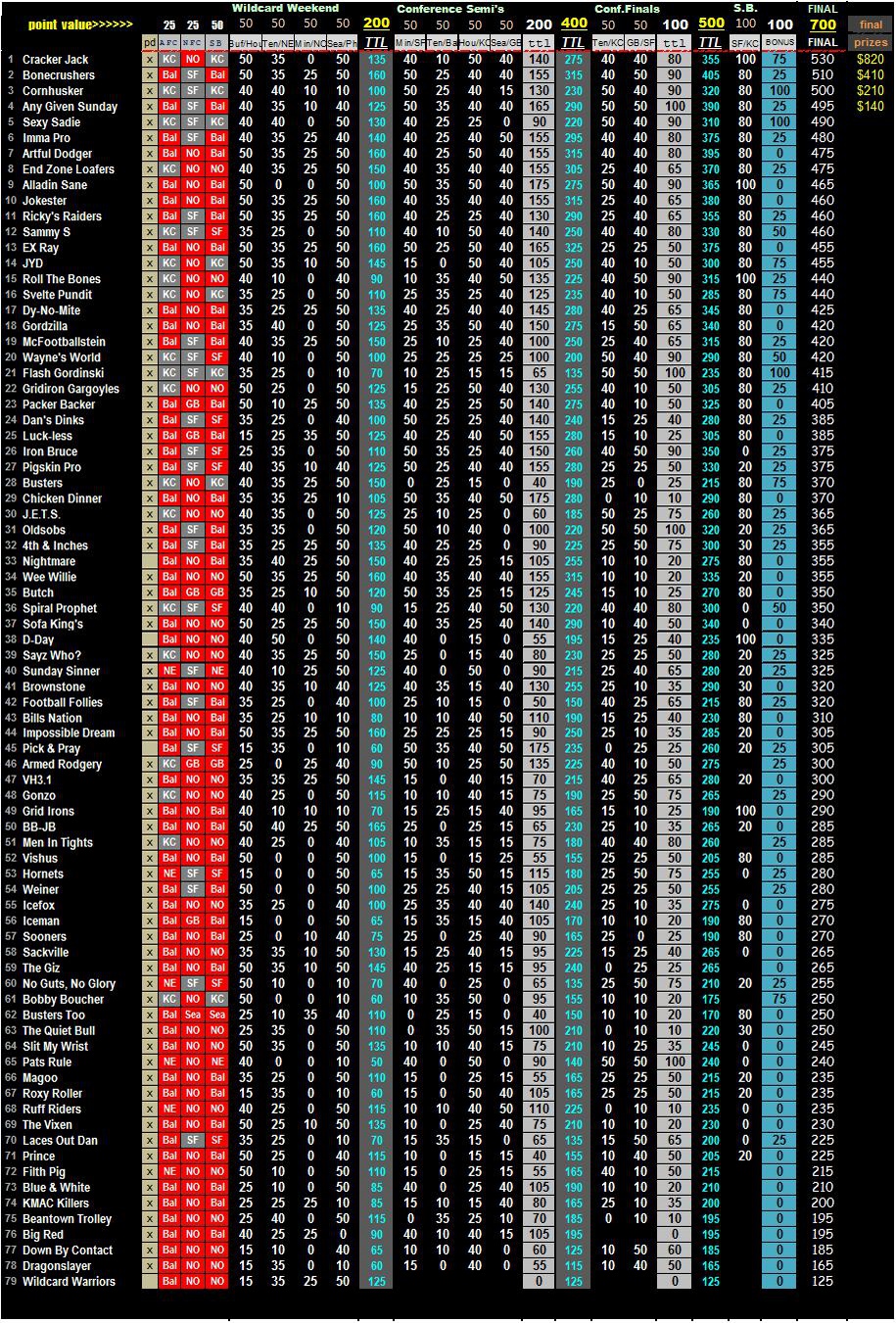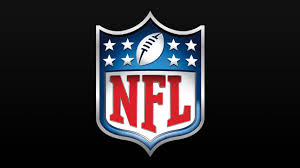 sports pools for (almost) all occasions!

Entry = $20

For all 11 games of the 2017/18 playoffs, you must pick 3 things...
Straight up winner (15 pts), winner vs given point spread (25 pts), and over or under given total (10 pts).
Also, you must predict the NFC and AFC champions (25 pts each)...and the Super Bowl winner (50pts)
Poolies with most points accrued after Super Bowl game will win $$$!


Deadline:
Picks are due before kick-off of the first game of the week...

Prizes:

1st - $570
2nd - $300
3rd - $170
4th - $100
(based on 57 entrants)


My picks

(team name: Vishus)

NE NE O


Playoff Paraphernalia

...Butch: I just hope everyone has fun, and no one gets hurt....except Tom Brady! There should be an Alladin Sane award for this pool too!!
An award for fultility? What a concept! (I'm shocked he wasn't hurt worse after that ghost "roughing the passer" call...)

...Brady's SBRing#6: Let's do this!!! Should be an awesome game...
even if Pats lose, their legacy is undeniable! Go Packers!!!


Epilogue:

...a wild and wacky season comes to an end...with the most boring Super Bowl in recent memory...
...congrat's to Any Given Sunday....this year's Playoff Pool champ! (and to Dragonslayer. Brady's SB Ring # 6, and Football Follies...all of whom cashed in at the end...
...BIG thanks to all who participated in this year's pools...without you all, there would be no pools, and I wouldn't know what to do with myself from Sept. to Feb...
...In other pool news...Icefox edges Slayer Of Dragons and Sooners to win Ranking Pool...by the narrowest of margins!
...In Super Bowl Squares news, Harv wins the scoreless 1st quarter, The Giz gets Halftime dough....and then it was the Alladin Sane show! His square of 3 and 3 wins 3rd quarter...Final...AND reverse Final! WTF?

HOCKEY PLAYOFF POOL and HOCKEY PLAYOFF BRACKET POOL will be the next one's up...giving everyone something to look forward to, other than the arrival of spring...