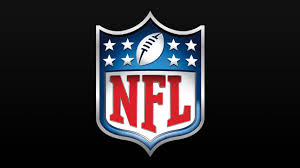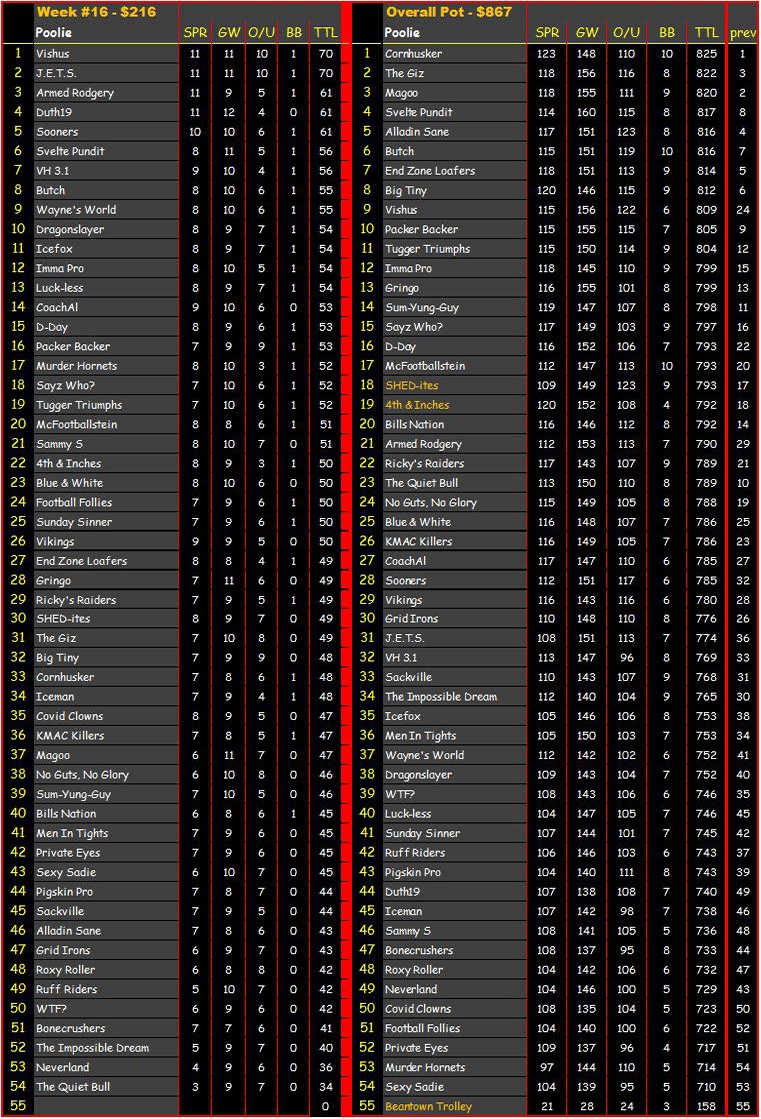 sports pools for (almost) all occasions!

Entry = $85 ($5/ week)

For EACH game of the 2019/20 regular season, you must pick 3 things...Straight up winner (2 pts), winner vs given point spread (3 pts), and over or under given total (1 pt). In addition, from your "vs spread" picks, choose one that is your "Best Bet" (5 bonus pts). Also, you must predict the Monday niter total score...to be used in case of a tie in points each week.
Poolie with the highest number of points each week will win "weekly pot" (see prizes below for breakdown)


Deadline:
Picks are due before kick-off of the first game of the week...
THIS POOL DOES NOT USE THURSDAY GAMES!
(except for US Thanksgiving)

Prizes:
$4 of every $5 collected from each poolie each week,will make up "weekly pot" (the other $1 per poolie will go towards year-end prizes)
The poolie with the LEAST amount of pts at the end of the season will win a refund of their $85 entry...known as "The Alladin Sane Award" (to be eligible...you MUST make every pick, every week!) The poolie who finishes 42nd (or 24th if not enough players) will win a free entry to Playoff Football Pool ($20 value)...known as "The Big Kev Memorial Award"
1st - ??
2nd - ??
3rd - ??
ASA - $85
42nd - $20





Weekly Winners:
1. Pigskin Pro
2. The Impossible Dream
3. McFootballstein
4. Grid Irons
5. Bills Nation
6.
7.
8.
9.
10.
11.
12.
13.
14.
15.
16.
17.

Week 6 Results
1. Car Car O
2. Bal Cin U
3. Sea Sea O
4. Hou Hou O
5. NO NO U
6. Min Min O
7. Was Mia U
8. SF SF U
9. Ari Ari O
10. NYJ NYJ U
11. Den Den U
12. Pit Pit U
13.

Mon. score:

The Commish's Picks (Vishus)
Week 6
1. Car Car O
2. Bal Bal O
3. Sea Sea O
4. KC Hou O
5. NO NO U
6. Phi Phi U
7. Was Mia U
8. LAR SF U
9. Ari Ari U
10. Dal Dal O
11. Den Den O
12. LAC LAC U
13. GB GB O

Best Bet: 3
Mon. score: 49

Weekly Wonderings...

...


...for those that might be interested....hockey season has begun! Still a few of Time-Of-The-Last-Goal pool tickets remaining...
$40 for 41 chances to win $40!!! Email me if you want a ticket (they are chosen at random)...there is a ticket still available that has already won twice!



To make your picks:

Click on link to open pick sheet (you WILL require Excel)


Weekly Picks Pool - Week 6


Email picks directly to: akasid22@gmail.com (lots of typing!)
GW Spr O/U
(don't forget to add Best Bet...and Mon. Nite ttl score)

OR

Fill out form, save to your device, then add saved file as an attachment and send to akasid22@gmail.com

With "flash" being phased out, and not supported by most browsers, this is the only alternative...old "forms" are no longer functional...

Week 7 games
1. Ari @ NYG (-2.5) 49.5
2. Hou @ Ind (-1.5) 47.5
3. Mia @ Buf (-16.5) 40.5
4. Min @ Det (-1.5) 44.5
5. Oak @ GB (-7.5) 46.5
6. Jax (-3.5) @ Cin 44.5
7. LAR (-3.5) @ Atl 53.5
8. SF (-10.5) @ Was 43.5
9. LAC @ Ten (-1.5) 40.5
10. Bal @ Sea (-3.5) 39.5
11. NO @ Chi (-3.5) 39.5
12. Phi @ Dal (-3.5) 47.5
13. NE (-10.5) @ NYJ 42.5